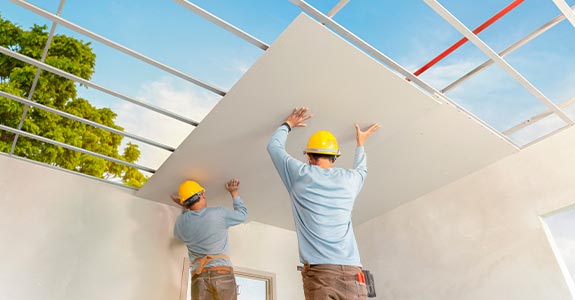 Acoustic ceilings are common throughout Ventura, CA homes and businesses, and they serve an important role in deadening sound in confined spaces. If your popcorn ceiling is damaged or old, it may be time to call Mighty White Ceilings & Walls for acoustic ceiling repairs. We're adept at recognizing areas that have succumbed to damage or age, and repairing them to improve their sound-dampening qualities and aesthetic. We work quickly and safely, protecting your environment while repairing your ceiling.
Acoustic Ceiling Repairs
Damaged areas of popcorn ceilings are often the result of water or stress. Once the underlying issue has been repaired, call us to fix your popcorn ceiling. We're the local experts for acoustic ceilings in Ventura, CA and do a proper assessment of the work required to repair any damage. From patching damage, to tape and mud, to applying the popcorn texture, we'll restore the ceiling to a like-new condition with flawless repairs.
Restore Your Popcorn Ceiling
It's not advisable to make repairs to a popcorn ceiling by yourself or using generic, off-the-shelf products. Instead, call the professionals at Mighty White Ceilings & Walls and let us make any necessary repairs with care and consideration to your surroundings. Contact us today at 805-340-2305 for more information or to inquire about the process of popcorn ceiling repair.